Composters BIGHANNA
The philosophy of Big Hanna composting is very simple – to offer people a reliable and efficient system that solves the problem of biowaste management at the place of their origin.
Using the Big Hanna composter, we conclude the cycle of bio-waste processing on site – be it in the place where we live or work, and thus contribute to sustainable development. The biological process with the Big Hanna composter takes place in a completely natural way and does not have any impact on the environment. Instead of filling landfills with biological waste, we turn them into natural, nutritious compost with a Big Hanna composter, with which we return at least a part of what we draw from it to the Earth. This is an investment in our living environment that we need to start IMMEDIATELY so that it will pay off effectively in the future!
Since 1991, Big Hanna composters have been installed in many countries around the world. They are used in residential neighborhoods, prisons, kindergartens, schools, hotels, mountain huts, conference centers, restaurants and canteens, barracks, hospitals, spas and many other entities where organic waste is generated daily.

The Eden project, the O2 Arena in London, and the Sverdrup Research Station, on the North Pole, are just some of the many references that exemplify the effective operation of the Big Hanna composter.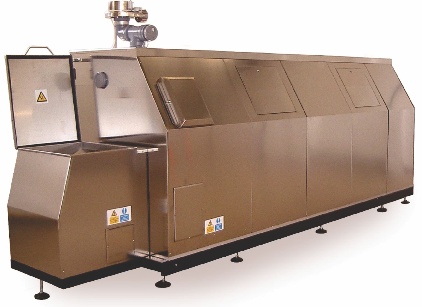 Users of the Big Hanna composter have very high requirements for bio-waste management, from an economic and practical point of view. Thanks to many years of experience with installed and operating Big Hanna composters, we can ensure that the chain from kitchen waste to compost production works in the simplest, most efficient and practical way. Container lifter, shredder, auger, feed hopper are just some of the options with which Big Hanna composters can be adapted to the wishes and needs of each user.

The list of models and technical characteristics of BIGHANNA composters
REFERENCE